Easy Rider - December 1999
Tuffenuff: Read about Wymond Walkem's '36 Indian and win a scholarship to MMI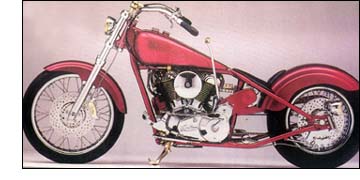 Longtime Easyriders readers will remember the name Wymond Walkem. This brother of the road has built more drop-dead-gorgeous scooters than this reporter has big, lumpy hemorrhoids. In the past 20 years, the Canadian customizer has owned dozens of far-out fabricated bikes and continues to design and create one-of-a-kind sleds from his shop, Walkem's Cycle in Georgetown, Ontario.
When we judged the bikes last year at our Easyriders Invitational Bike Show in Columbus, Ohio, we stopped dead in our tracks when we came upon this wineberry red 1936 Indian Chief that had been given the Walkem treatment.
Wymond is a winner for creating this rolling masterpiece, and now you can be a winner, too. Read this bike feature carefully and fill in the blanks in the tech chart. Send the chart with a few words telling us why you deserve to win a scholarship top the Motorcycle Mechanics Institute.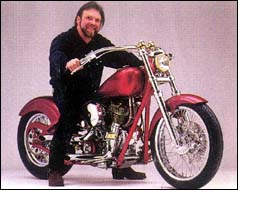 Now on with the meat and potatoes. Like most of Wymond's creative cycles, this nasty li'l street burner-upper began as a collection of parts and a wild imagination. Our bro noodled and noodled until his noodle was sore. "I wanted to build something that didn't look like every other bike out there, " Wymond told us. "I didn't care what reaction I got or how it would go over; I just wanted to build an Indian. Hell, someday I'd like to chop an Indian in-line four. Wouldn't that be something?" His strict American-made standards and love of kickstart motorcycles is legendary, and his ability to restore vintage Indians led to his building of six Indians for the Ford Motor Company and many other lovers of American ingenuity.
This whole project began taking form when a dude brought in the 1936 Indian frame as a partial payment for work on his scoot. The original Indian Chief tanks wandered into the shop when some brothers wanted to trader for a paint job. Wymond took the choicest motor stuff from his dusty - I mean, trusty - collection and got out his wrenches. The mill for the Chief first fired in 1946 but has been beefed up to 93 cubic inches with S&S wheels, Carillo rods, and a few secret Walkem goodies. The dual carbs are…ah, I'm not giving that away. You'll have to do your homework to win this MMI contest. I will tell you that's there are a few Harley parts on this bad-to-the-bone chopper, but you'll have to figure out what they are on your own.
You can bet that Wymond will ride his next custom bike to Columbus and thrill us all again with his life-long passion for building motorcycles filled with heart and soul. Chances are also good that he'll keep on winning bike shows.