Easy Rider V-Twin Edition - July 1991
Dreamer's Knuck
As featured in Easyriders Issue# 217

You know how it is, you have a dream. It bogarts your work, your free time, and even your love life. Ya see, there's this picture in your mind: you, the open highway, and one kickass fine scoot. There's just no shakin' it.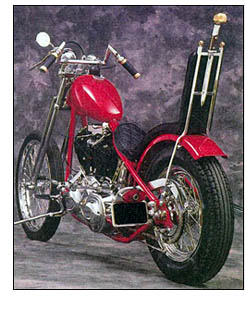 So, you might as well build it. All you have to do is sacrifice a few things-like your money, your free time, a decent night's sleep, your social life, and maybe even some luxuries, like beer and food. And make sure you're prepared to strain some things-like your eyes, muscles, patience, and marriage. But, whatdafuck, you're gonna have the ride of your dreams, even if it takes 20 years to get it on the pavement.

And that, without windbaggin this whole thing into a miniseries, brings us to this nifty knucklehead. There's this deja vu trip going on here, 'cause, ya see...Ah, shit, I don't even understand it and I'm writin' the damn thing.


Listen, why don't I butt out, and let the owner, Wymond Walkem, tell you himself by way of a letter he scrawled to us.

Hey Keith (Ball, Editor):
In December of 1989, I received a letter from you informing me that my '83 Harley was in the Invitational Class of your upcoming show (2nd Annual Easyriders Invitational bike Show, February 1990). Wow! What an excuse to go to California in the middle of February. (Wymond lives in Norval, Ontario, Canada.)

Bike show, shit! My bike's been on the road for over three years. It's a little road-tired and I'm a little bored with it, but it's still hot.

Talking to members of your staff, I learned there would also be a Preview Class for new bikes which, if chosen, could possibly be featured in a future issue of Easyriders.

Build a new bike? Every time I build a bike it's got to be right for the time, style, theme, etc. But what about the bike I've been dreaming about for 20 years? What will people think? How will it go over? Who cares? It's my dream.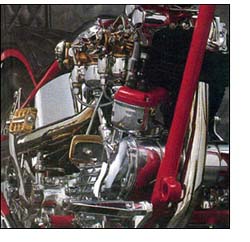 The bike was a 1946 knucklehead, featured in the May 1970 issue of Big Bike Magazine. The article was titled, The Answer Perfect and the bike was built by Ed Fernandez. I was 16 at the time. I spoke with Joe (Teresi, publisher) at the first Easyriders Bike Show. He told me he had worked on the staff of Big Bike, and that he'd left it to start up Easyriders in June of 1970. Sure enough, I checked the issue that I have saved since then, and his name was listed under Technical Editor.

I knew that at some time in my life, I was going to build that bike. Four years ago, I purchased a 1946 knucklehead, bone stock. Since then, I've been collecting those now hard-to-find parts (peanut tank, pipes, spool wheel, etc.), parts that use to be a dime a dozen.

Staying with the theme of the bike, I also had to add some of my own personality. After all, it is my bike.

A day before the bikes were loaded on the plane to Los Angeles, the knucklehead was fired up and taken on a three-mile trip in minus-30-degree weather (I had to push it to the end of the driveway to avoid the snow). Everything was fine.

A good friend of mine, John Dalton, agreed to ride my 1983 Harley when we arrived in L.A.

We finally arrived. Excited, we pulled out of the cargo building right onto the tarmac. We only made it about 20 feet, traffic was rather large.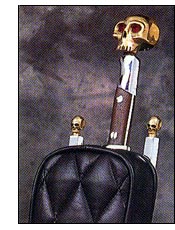 There was lots of screaming behind us. Everybody was honking but we couldn't figure out what was wrong. We gave each other a glance and shrugged our shoulders. We looked up at the next person who honked at us, only to see a thumbs up. We definitely weren't at home, but we were beginning to feel like we were.

The Bike Show was in a tent... what a tent! Only in California. Seeing and talking to all the industry greats...it was quite a sight.

The Show was great. First place in the Reader's Ride Class. What more can I say?

After the Show weekend, we still had four days left in California, so we decided to ride up the coast to San Francisco-a great ride for breaking the motor in, what with the cool air and all. We wound up not having the time to make it up to San Francisco, but on the way back, along the Pacific (Highway 1), two whales were swimming in sequence with us. It was a beautiful sight and finished up a perfect trip.

Have a good year,
Wymond

Thanks, bro, you too, and congrats on your throwback. It's a rush to see that the heyday of chopper building is still alive. Smooth highways.

-Glider