Easy Rider - June 1982
183-Inch Bonanza!
As featured in Easyriders Issue # 108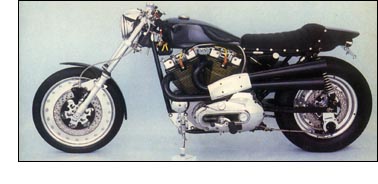 No, not just this 75-inch dazzler - in case you missed it, flip back to the dynamite 108 inches on the preceding pages.

Not very often, but every once in a while something goes the way we want. This Sportster went the way builder Wymond Walkem wanted. Wymond, noted for building hot-rod bikes in Canada, at one time built and owned the fastest fuel Sportster there. Gord, the owner, called Wymond and wanted the faster street Sportster in the province. Every part on this scooter was to be brand new - no used parts.

A brand-new, in-the-crate Sportster engine was immediately dismantled. Most of this new engine was shelved with zero miles on it. What wasn't shelved was modified for high performance. The stock heads and cylinders were replaced with top-of-the-line Sputhe aluminum cylinders and dual carb heads. For the extra edge, a nitrous-oxide system was hidden under the seat - the braided steel lines to the intake manifolds are the only thing that gives it away. The transmission received just as much attention. It's full of Andrews gears, with a Trock tranny door that resembles a bank vault, not to mention a legendary Routt main shaft.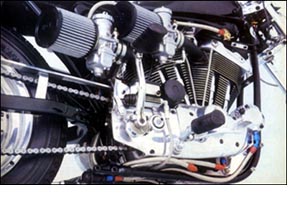 The frame, front end, wheels, and brakes are all racing items. The frame is an XR from the factory in Milwaukee and has been proven on every oval race track in the country. The Cerrani road-race front end is used on the more serious racers in world, and the wheels and brakes from Kosman are standard equipment on bikes that need to stop high-horsepower engines.

I'll admit that the price tag is enough for a building a small house, but when you want the absolute fastest, you have to give up the big bucks. -Wrench